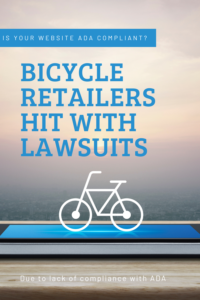 Web accessibility compliance is a requirement that's been set by the ADA title III and affirmed by the DOJ. Moreover, legal implications aside, people living with disabilities make up between 20-25% of the global population. This is an enormous market that shouldn't be cut out of the internet age, and opening up your business to such a large new audience should be beneficial for all.
Fifteen California bike shops have been threatened with lawsuits due to their websites' lack of compliance with the Americans with Disabilities Act and a California statue.
The law firm, representing a blind woman from California, said in the letters that it would seek statutory damages of $4,000 per violation, plus attorney fees and other costs. It said it was open to settlement negotiations if dealers responded before Aug. 14. Otherwise, it said, it plans to sue in a U.S. district court.
Such lawsuits have become increasingly common in recent years. While the ADA requires websites to be accessible by those with disabilities, such as blindness, there is no binding standard to determine accessibility. That opens the door to these kinds of suits, legal experts say.
In the past year, Haro Bicycles and Louis Garneau have each been hit with similar ADA compliance suits. Each of those suits was filed in New York federal courts and had different plaintiffs represented by different firms. Haro and Garneau each settled the cases on undisclosed terms.
The California demand letters came from the Beverly Hills-based firm Canon Law. The firm said it is representing Xandra Krahe, a blind California resident. The firm did not respond to an email from BRAIN Thursday.
The firm sent retailers screenshots of their websites with alleged violations highlighted. The letters said the law firm used WAVE, a Firefox browser extension, to identify the violations.
Justin Brown, the owner of Revolution Bicycles in Arcata, received the email and letter from Canon earlier this month. He called the threat "frivolous" and said he's been in touch with a lawyer, his insurance provider, and Trek Bicycle, one of his suppliers.
"Really during these pandemic times for someone to be out there throwing around frivolous lawsuits is not OK," Brown said.
Many, but not all, of the shops that received the letters had sites built by SmartEtailing.
Ryan Atkinson, SmartEtailing's CEO, said the company has a high market share in Calfornia, so if a law firm targets bike shop websites, it will likely find many hosted by SmartEtailing.
"There is no indication that there is a particular vulnerability for bike shops using SmartEtailing versus other web hosting providers such as WordPress, Magento, or Shopify," Atkinson said. "Rather than any issues with our platform, we believe we are seeing a cluster of reports of demand letters because we provide website services for almost 20% of the bike shops in California, including many of the largest."
Atkinson said the company has always taken website accessibility seriously and its sites are built to be in compliance with the Web Content Accessibility Guidelines 2.1 (WCAG 2.1). He said SmartEtailing sites also rank highly using Google's Lighthouse audit tool, which measures sites' accessibility, performance and other factors.
This Monday, SmartEtailing sent an email to all California shops on its mailing list, including non-clients, telling them about the legal threat. SmartEtailing has offered to help clients fix any errors, and has assigned a team of staffers to help. SmartEtailing also is researching law firms that can help the retailers.
Monday's email, however, told dealers they were responsible for their site's compliance with the ADA: "While SmartEtailing hosts your website, your business is ultimately responsible for the content published on your website and any alleged ADA compliance issues."
That sentence didn't sit well with all SmartEtailing clients, Atkinson conceded. "We've had a lot of difficult conversations," he said.
Daniel Tebbs, the owner of Victory Velo Bike Shop in Auburn, received an email from the lawfirm and the one from SmartEtailing, who built his store's site.
"I just wish (SmartEtailing) didn't say that it was up to us: that it was our responsibility to make sure (the site) is ADA compliant. I'm not a web designer, that's why I paid them to do it. They should make sure the site is compliant."
Tebbs said the law firm identified many errors in his store's site. Most of the errors were in the catalog section. "It seems like that should be on SmartEtailing's end. That's my question: Is it really on me? They are saying they just host the site, but that's the gray area. I haven't done many modifications to my website; everything is just straight from their catalog."
The law firm also sent the demand letter to South Bay Cycle, a store owned by well-known Southern California retailer Alan Goldsmith. Goldsmith sold his Supergo retail chain to Performance in 2002 and returned to bike retail this year.
Goldsmith, a non-practicing lawyer, said retailers should take the issue seriously, even if the website errors appear minor to them.
"It's a legal risk, you have to take it seriously," he told BRAIN. "The first thing is you have to fix any problems. … and then you have to try to bring in other people to help defend. Having (a lawyer) represent more people will result in lowers costs to each one of us."
Goldsmith is exploring ways that the California retailers being targeted could combine resources for a common defense.
Bike shops aren't the only businesses taking a hit. Law firms are targeting a variety of businesses who aren't ADA compliant and yours could be next. However, there are ways to prevent these lawsuits from happening to you. First, you can use free tools to audit your website to see if it is ADA compliant. Maximize ADA provides you with an immediate online audit to see how close you are to compliance. We will also fix the areas that aren't compliant for an affordable price. Contact us to find out more.
Source: Bicycleretailer.com, Steve Frothingham