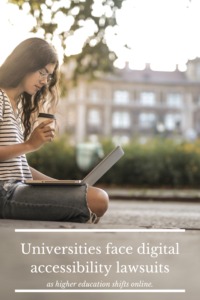 People with various disabilities have tools that help them interact with sites. For example, the blind have screen readers which allow them to hear the content on a webpage. Unfortunately, a lot of websites are not designed to be accessible for this group that makes up between 20-25% of the population. Because of this, lawsuits are being filed against many organizations, including schools and universities.
With higher education shifting online since the coronavirus pandemic, many students with disabilities have filed lawsuits against colleges and universities for their websites lack of accessibility to them.
This July and August, digital accessibility suits increased 17 times compared to the first half of the year, according to AudioEye, a digital accessibility software company.
"We would expect to see more of these in the coming months," said AudioEye Co-Founder Sean Bradley. "… The actual litigation does call out COVID and does speak to the urgency around online education for individuals with disabilities."
Online education, if designed incorrectly, can pose all kinds of educational hurdles to students with disabilities, who make up about a fifth of college students, according to a 2016 report from the National Center for Education Statistics.
A lack of descriptive alt text, or alternative text, can make it impossible for blind students to know what information the images on a worksheet are supposed to convey. Faculty rely heavily on standard PDF files, which aren't readable by the technology used by students with vision impairments. While it's possible to make these documents accessible, professors don't necessarily know how without training. And the list goes on. Materials for class can include redundant links or empty links that trip up students' assistive devices and make the work more confusing for them to navigate. Sometimes, even a school's colors can be an obstacle if the color contrast on a university's website makes the text harder to read.
Meanwhile, not all colleges and universities are consistent in their web accessibility across offices and departments. There can be "a lot of disparity" within a single institution, Bradley said.
He stressed that these issues aren't new, with roughly 30 lawsuits leveled against online higher education institutions for similar issues last year. He's seen individual lawsuits and digital accessibility investigations by the Office of Civil Rights increase as awareness of the problems grew over the last decade. These kinds of cases are "par for the course" now, he said.
But the barriers became particularly stark starting this past spring, when most universities shut their doors. Dave Johndrow, Misericordia University's PC services manager, said professors had a wide range of technological experience when he transitioned the school to online learning in March.
Some had taught online classes before while others were strictly "chalkboard people," he said, so designing online courses – let alone accessible ones – was new to them. It was "unbelievable how much effort" the office of technology and learning put into training faculty and transferring their in-person courses online.
Misericordia, a private Catholic university in Pennsylvania, had been investing in digital accessibility since the early 2000s, so the school was more "ahead of the game" than others, and Johndrow thinks universities that are trying to make these changes now are going to pay for it as these lawsuits continue to surface.
Higher education institutions needed to "prepare for [this] ahead of time," he said, "… rather than get the letter that you're being sued or called to the carpet to say, 'You're not accessible.'"
Still, during the pandemic, he expects colleges and universities to "get better" about digital accessibility – and expects they're going to quickly see the benefits for their students.
Bradley argued it's pragmatic for the higher education sector – not just from an educational perspective but from a business perspective – to make digital accessibility a priority, because it ultimately means they can serve more people.
Coronavirus aside, "this shift to the digital-first world has to take into account the diverse needs of users," he said. "Individuals with disabilities, falling in that category, leverage different assistive technologies and have different needs and requirements. In order to reach the largest audience and to cater to the broadest number of people and to make sure that you're not leaving anyone behind and providing equal access, certainly accessibility needs to be at the forefront of the conversation and in consideration as businesses and school institutions are prioritizing their digital-first experience."
While colleges and universities have increasingly realized the importance of paying attention to the needs of students with disabilities, he thinks the shift online during COVID-19 – and the litigation that came with it – has accelerated universities' growth in this area and could leave a lasting impact on the digital accessibility of online higher education.
"We're only going to see more of this until accessibility is truly mainstream and baked into everything that designers and developers are doing to create meaningful online experiences," he said.
With all things considered, it's important to be prepared and proactive rather than reactive. In order to avoid lawsuits and provide access to all audiences, make sure your website is ADA compliant by utilizing tools such as the free website audit provided by Maximize ADA. Once your website is scanned for any issues, you'll want to fix them as soon as possible. We can help. Click here to find out how.
Source: Diverseeducation.com, Sara Weissman